Liverpool Sound and Vision Rating 8.5/10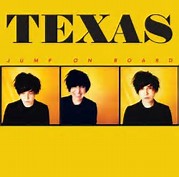 Somewhere across an ocean they talk of Texas as the Lone Star State, the place where everything is a little bigger than anywhere else, where money and riches are second nature, where life is somewhere to dream of living. Elsewhere Texas is a state of mind, a symbol of music at its very best, where humility is the watchword, where life is a place in which emotion and dreams are part and parcel of the gift of music. This Texas is arguably a finer place to find yourself residing for a while, it is certainly the position in life in which it is always more beautiful to Jump On Board.
To immerse yourself once more in the world of Sharleen Spiteri and the musicians that she surrounds herself with whilst making an album is to navigate those choppy waters between the Lone Star and the home fires of Scotland, to the sense of the real and not the gargantuan drip feed; this is the place where life pulses in a way that can never be felt unless your emotions are tied to the sail and allowed to whisper into the face of the storm.
It is in the face of the storm that the Sirens cry out for company, yet this ship, steered by Ms. Spiteri, has long since been one of muscle, it is resolute in its path and never fails to find a way past any sense of uncalled for wreckers, rocks or tsunami that might threaten the smooth passage between writing, studio and final exquisite offering.
Jump On Board, perhaps an instruction from a Captain willing to take you round the bay a few times, but more of a education, this is not the sit on deck and put your hand lazily in the water and dream of cloudless skies, this is the full on adventure, the tutoring of all that has gone before and that has been spoken of, this is a set of great songs that rivals anything the band have put out before but also is that rare place in which it could be the very beginning of the journey.
The strength of the album is unquenchable and resistant to the barnacles who always come out in numbers when something exciting comes along. In tracks such Can't Control, Tell That Girl, Won't Let You Down, Sending A Message and Midnight, Texas maintain their position of one of the great loved bands of their time, like Deacon Blue, Texas seem to have boundless energy and perfect direction, this is certainly the vessel in which to Jump On Board is the prelude to further discovery.
Ian D. Hall