L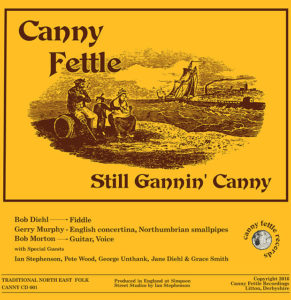 iverpool Sound and Vision Rating 8.5/10
The art of being lost in Time only works if you never speak again after your success, otherwise Time has a way of bringing you back, rediscovering you and finding a place in uncertain times for you to shine and be incredible once again. You may believe you can control Time; that you can do one thing, do it so well that for a moment in the wink of your eye you are on top of the world and then you can disappear at your own volition and be forever remembered with sepia toned acknowledgement and praise as the ultimate bee's knees.
Time is funny, time has a sense of humour as well as dark side and for Canny Fettle, the band that added so much warmth to the world over 40 years ago, time has proved that despite the passing of ages and the wrath of Government that has gone in between, there is still a place for the band, that they can be seen as Still Gannin' Canny.
Time may have a sense a humour but it has a sense of duty as well, it regards such things as nostalgia as perfectly acceptable and memory as the great adventure, in that there can be no argument and for Bob Diehl, Gerry Murphy, Bob Martin and their special guests George Unthank, Pete Wood, Jane Diehl and Grace Smith, Still Gannin' Canny is the perfect trip, for it involves the process and thought behind the songs as the past held in high esteem but with songs that truly capture the moment of the day today, unique in every way, Canny Fettle have emerged from the past to show the world there is a future.
In an album full of great songs and expert performances, there is still room for sentiment, to smile at the world beyond the shores of the 1970s and wave them welcome, to join the party now and make the listener appreciate fully just how superb the band were when they released Varry Canny and Trip To Harrogate.
The traditional North East folk music is beautifully played and eagerly devoured and in tracks such as Aboot the Bush/Willy/Mad Bess, Old Milner, Christmas Day in the Morning/Cutty, Joy of Living/Durham Regatta and Lassie With the Yellow Coatie, the band re-emerge from the 70s heyday to lead the way once again, time is sated, time's sense of honour and humour remain intact and for Canny Fettle the world is once again in their hands.
Canny Fettle's Still Gannin' Canny is released on May 19th.
Ian D. Hall