Liverpool Sound and Vision Rating * * * * *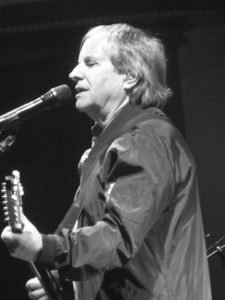 The gentleness of the man holds him in high esteem with his audience, the nature of his craft, the talent for song writing and capturing the moment frame by frame takes him to a place where the crowd simply adore him; it is impossible when you watch Chris De Burgh perform live on stage to see anything but a sea of faces light up with expectation, no matter the day they have had, as soon as he takes to the stage and then grow with love and self esteem as the concert goes on.
It takes a certain special kind of talent to be as loved by an audience as Chris De Burgh, it shows in the eyes of the person as they are sat down drinking in the music, this is not some love sick teenager mooning over the impossible, neither is it the love that adorns the back patches of the denim and leather brigade to whom their band is their staple and only diet, this is something else, it is quiet and meaningful and it stems from the genuine love of the song as it does the man.
Liverpool's Philharmonic Hall, like the city itself, is a particular favourite of the songwriter, making references to the football club he himself adores and their game against Crystal Palace, he puts his heart out there, he identifies with the people who come from Liverpool and has special stories that he places with charm during the night. Of course musicians will always have this affection for the town because of its place in history, they will make allusion to it, but it is always somehow a little more special when Chris De Burgh brings it up, the casual conversation, the smile, it is something a handful of stars possess and like for example Roger Hodgson from Supertramp, the audience knows is genuine.
The expansive set took in songs across the board, from almost every angle of his long and colourful career and between two sets, the music was nothing short of beautiful and precise. Songs such as Bethlehem, Missing You, the uproarious Spanish Train, Ship To Shore, The Revolution, A Spaceman Came Travelling, the dip of the toe into The Beatles territory in Michelle and Eleanor Rigby, Waiting For The Hurricane, In A Country Churchyard, The Spirit of Man and a rather splendid cover of Toto's Africa, Chris De Burgh seemed to welcome the thought of the 50th Anniversary of the Summer of Love with open arms and open heart to the city he obviously loves.
Some shows are special because of the time they capture, some because they frame the positive anger that world is discharging, for Chris De Burgh at the Philharmonic Hall though, the special bond between crowd and musician is what makes the evening stand out as particularly distinctive and exclusive.
Ian D. Hall