Liverpool Sound and Vision Rating 8.5/10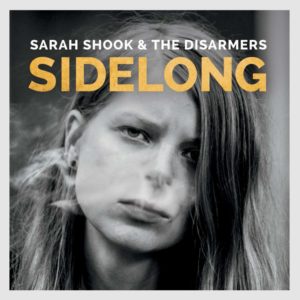 We wait seemingly at the crossroads of history, our engines not exactly revving, our minds certainly not on the road ahead, we are sandwiched between the idea of making it through to other side whilst the other three lanes that have drivers twitching in their seats and reaching down into their saddles bags for a bottle of bourbon, their sidearms and an old wrecked copy of the local A to Z. The landscape being made oblivious to all, and yet somewhere out of nowhere the anger and the passionate are given a home as Sarah Shook & The Disarmers rattle the cages of the ignorant and joins forces with the vulnerable.
The crossroads is their because we have found a way to become directionless and manipulated at the same time, we are treading a road that we promised we would not go down again and yet there is always salvation, there is always the resting hole in which music comes to rescue and steely resolve to make the world a better place can once again enliven the spirit. In Sidelong that snarl, that reach out for your hand and the epitome of rowdy purity is offered and one that should be felt with every passionate drop in the listener's body.
Those who have seen the world and not from a hotel room, who have slept on beaches, who have found a way through forests and taken their own skin and bone personal vehicle for rides along the Americana highway, for those the world is a place of wonder but also scary as Hell, there is no comfort to be found when the pillow is missing. Yet it is such moments of endeavour that the music comes up alongside and shows you the best way to get through the crossroads without being hit by the maniacs in the other cars.
Sarah Shook & The Disclaimers are that personal satnav, the creation of the raucous, the boisterous and the invincible and the ride they create in this album hits the pedal so fast that before the other drivers realise, you are on the other side and thanking the music for being smart, mean as possible and beautiful.
In tracks such as the Road That Leads To You, the fantastic allusion to fallen grace in Make It Up Mama, Solitary Confinement, the reality of domestic fallout in The Nail and Fuck Up, Sarah Shook & The Disclaimers truly take the fight to the opposition and then offers them a piece of their heart to take away as a permanent reminder that we share this random planet hurtling through space; sometimes it just takes a different driver to see the road ahead more clearly and Sidelong is the perfect navigator to have by their side.
Ian D. Hall