Liverpool Sound and Vision Rating * * * *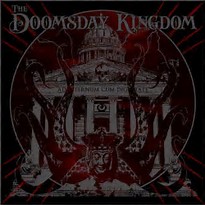 Always pertinent, never short of imagery, some bands create albums that are always going to stand the test of time, no matter the genre, simply because they invoke the picture of Time, of humanity's walk to destruction or to sincerely hoped redemption with clarity and transparent lucidity.
It is in that lucid thought that the nightmares and dreams force themselves to the forefront and The Doomsday Kingdom's self titled album is no different; it soars with the same intelligent clear thought found so abundantly on many metal albums but one that really gets to grips with the idea of mortality and destruction, even as undercurrent carried by the thoughts of Candlemass' Leif Edling.
Inspiration can strike anywhere and when life has been beating you to a pulp, when it has been kicking you to Hell and back, striking back with a well maintained fist is the least you can do, sometimes you have take a pot shot and make sure that life does not growl louder than you.
With what was considered to be a solo album by the Swedish national, the rationale of the project slowly dictated that Wolf vocalist Niklas Stålvind, Marcus Jidell and Andreas Johansson join in take this new project to a place where those demons that do their upmost to eat you piece by salivating piece, are not left to dine for long and in which the chain saw like effect of revenge can be keenly felt.
Time has offered The Doomsday Kingdom at arguably the sort of juncture in which the occasion deserves, the growl restored, the roar fulsome and battering the senses; comebacks these days are seemingly two a penny, take a year out and everybody is round you imploring you to make that "comeback", for Leif Edling, it is more of the heroic return, the restoration of a King.
The album never lets up, it combusts with force and imposes itself like a dragon slayer at the door to a nest; there is bravery and there is heroic but there is always the acknowledgement that sometimes you have to wield a sword with someone else behind you and in tracks such as the impressive The Never Machine, The Sceptre, Hand of Hell and A Spoonful of Darkness, that sword is given a name, Companion, the sword that brought forth the Kingdom once more.
A deeply personal album, it is one that tests the resolve and the human machine but one that for Leif Edling, hands over the keys to The Doomsday Kingdom with pride.  
Ian D. Hall