Liverpool Sound and Vision Rating 9/10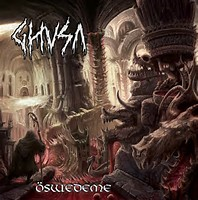 It is time to run up the flags and deck the venues with the loud and the insanely gifted, to hark the words of the doomsayers and dismiss them as easily as swatting a fly drunk on White Lightning or showing the door to the obnoxious and disrespectful; the party can once again flow with the sound of Death Metal emanating from the Scandinavian lands of ice, lakes and myths and ghUSa.
Sweden's ghUSa's hold on the ideal of Death Metal is fierce, it is tied and bound together with brutal anarchy and yet it has within it the power to defy authority with absolute grandness and unite people in a fight against the darkness, to illuminate the beast within us all and make it swing with might the rand hand of creativity.
It is perhaps appropriate that ghUSa's reign starts here in Öswedeme, an album that shows strength but in true Death Metal cause, is one shrouded in the growl of security, what is the point after all of heading into the fight if you cannot at least put fear into those who will not listen to your point of view and decry with no basis of fact that the music is not in keeping with their world image; for diversity is the point of existence and L. Chuck D's vocals scream pure honesty in the face of those who cannot handle the truth.
In tracks such as 28 Days Later, Death or Glory, Sickening, the brilliant In Gods We Fear and Flying In A Dark Dream, L. Chuck D, Vincent "Dørÿ Bigaillon, Romuald Potel, Heimdall and Pyromancer send out a warning of despicable, beautiful and rage filled intent, it is in the anger that raw honesty is shown, that desire is made to be passionate and the strength of the individual caressed and inflamed.
Öswedeme is an album of feeling and honour, the pride of a people who have taken a specific genre and given it a sense of nobility and reputation which arguably outshines anything that comes from the natural homes of the genus. ghUSa rides high, the future has a purpose.
Ian D. Hall