Liverpool Sound and Vision Rating 9/10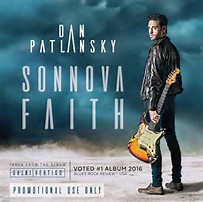 You got to have faith, it doesn't matter what form it takes, whether it is in the eye of a merciful deity or the extremes of a personal thought and drive, faith in what we do, in how we present it and how it will be seen by others is the drive that separates us from the those willing to knock everyone around them down just to see them suffer in the dark alongside them.
Faith, it can be an illusion, it can be shattering but ultimately we require just even a small amount to see us through the day and keep us breathing, keep us hopefully smiling and when the music is hot, when the temperature steams to boiling point and the bubbles are volcanic hot, then the faith is passionate. It is a point of view arguably subscribed to by Dan Patlansky as he releases the engaging, the wild stallion from his album Introvertigo, the outstanding Sonnova Faith.
There have been volcanoes that have withered and died, allowed to sink into the falling depression of extinction, and all because they just couldn't face Time down the barrel of the gun and keep their life force from becoming a damp and irritable squid. Such is the volcanic force inside Dan Patlansky that it rivals Mount Etna, a natural beauty which keeps giving, that keeps going and one that shoots out a generosity of spirit in the explosive single.
Sonnova Faith is to be praised, to be lauded for its ferocity and undying fervour. To find such a single being released off an already exquisite album is too often play with fire, the pleasure of hearing the crashing, booming crescendo in time with the songs around it always a more discerning priority for most music lovers and fans of the big explosion; yet the song lives, it breathes with a sense of majesty and detonates its pleasure in every single direction.
An utterly brilliant single, a contender perhaps for one of the best of the year, after all it takes faith to be this good.
Ian D. Hall