Liverpool Sound and Vision Rating * * * *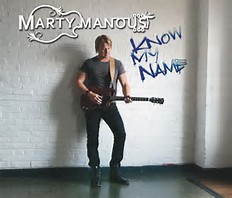 There comes a time in every performer's career when it must step out of the long and gracious shadow that is Jimi Hendrix and strike a chord and a sense of wisdom of their own; it is never to do down the late great man but rather to suggest that the power of such men and women in the subconscious of music lovers should never should not hold back the ability and prowess of those following up behind. Everybody deserves to be heard, to have their words heeded or enjoyed and everybody, even in a world rapidly approaching eight Billion souls, should be able to say without impunity Know My Name.
Marty Manous is a name that should be readily seen dripping off the tongue, that should be heard in the type of quarters who take their Blues seriously, who find their enjoyment of the genre supplied by the new and exciting generation, not hampered by the early death knell that stalked the pages of the music between the 1970s and late 90s, to be rough, satisfying and brimming with the confidence usually thought of to be associated with the pioneers, with those who had nothing to lose but despair and misery.
There may be a different kind of disillusion stalking the souls of people and players in this difficult days but it is one that makes great music legendary, hard times bring heroes in all sorts of ways and music is no exception.
Know My Name is wild, it snorts like a beast fighting its way past hunters and the critical who wouldn't know a name from a serial number, who never have the decency to put a title before a surname, it is an album that shows major respect to the past, the pre 70s downturn and firmly aligns itself in the ranks of the new breed, the hard edged Blues Rock crowd that stump up a smile and fight alongside the disenchanted and the ones who have lost hope. In that, Know My Name is crucial, it is powerful and it never lets go of that thought for a brief moment.
In songs such as Bitches, Transcending, Love In Vain and The Night Is Calling, Marty Manous, alongside Mark Wilson, Sean O'Rourke, Joe Morgan and Sketch Ellis, the mood of a thousand scornful looks is created but also the hand of friendship is offered, the peace of anger moved onwards. Everybody should hold close those bold and beautiful enough to listen to Know My Name, an album of terrific gallantry and confidence.
Ian D. Hall