Liverpool Sound and Vision Rating * * * *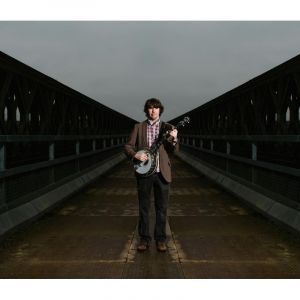 A life without care is something we all dream of, to play the instrument closest to our hearts and woo the world with it. It is the life we should have, it is the life we were perhaps promised as we sat in classes dominated by the old school guard of thrown blackboard erasers and pulled ears, that we were the fortunate ones because the future was going to be rosy, that the coming of the new century was going to see Humanity rise in such a way that many old ideas were going to finally be obsolete. Nothing is ever that straight forward, everything is always going off at a tangent; that we are always Verging on the Perpendicular.
What could be considered straight forward, honest, evened out, is the dance offered by the banjo, in some quarters an instrument that does not receive the due consideration it deserves, and yet one that holds a sense of grace that few can touch, that few dare to take on in a battle to prove that there is a certain elegance that comes with playing such a fine musical machine.
Not for Dan Walsh, there is no thought of fear in the fingers as they take on songs and images arguably that would not sound edgy in the minds of other musicians. It is going past the limit that really sets the music on fire which gives it a stamped passport to go beyond the borders and live with both structure and a passionate glory, one that goes to the brink of sublime madness and truly verges on the perpendicular.
The album spins with delight, the reels created different, generous to the extreme and yet as songs such as the fantastically observed Going To The USA points out, such freedom comes with a very heavy price.
Dan Walsh mixes both the traditional and the modern with great effect and the tracks Glen Cottage and Banish Set stand just as proud and perfectly adjoined to the sorrowful Leave This Land, Out Of Here and the heart filling cool of The Sulin with respect and liberating thanks.
An album which takes the banjo in a different direction, one that sees Dan Walsh fly in the face of musical abandon and become a musician who sees the straight forward as a challenge, one to help change the attitudes of those who don't believe in being progressive and revolutionary.
Dan Walsh's Verging on the Perpendicular is released on April 28th.
Ian D. Hall