Liverpool Sound and Vision Rating * * * *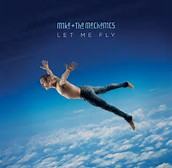 It is the carrying call of all who wish to be seen as being independent, of being able to go beyond the imprint of Icarus and his less than idealist performance, that we all at some point have to beat a drum to the notion of being able to reach out and touch the stars, that we want to shout out, Let Me Fly. It is human, it is the inspiration that carries us all and yet still there are those that take great pleasure in holding the reigns tight and suffocating the spirit out of those willing to dare.
For Mike and the Mechanics, Let Me Fly is arguably a new start for the band. There are of course elements of purity which saw the Genesis member strike out with several hits in what was considered a side project at the time of release, but there is a sense of optimism, of challenging human nature and consequence riddled within the songs on the new album, tracks that at one time would have gone down a root of absolute regret and true apology are now in the realms of the sage and wise acceptance.
With Andrew Roachford and Tim Howar once again providing vocals for Mike Rutherford's observant thoughts and powerful sense of anger and spirited musical frame of mind, the album rides along with intent. There is no dip, no footfall in which to trip the avid listener up, all there is a soundtrack to a man's life, one once arguably filled with that pent up regret but now to whom acceptance has become the focus of his life; it is one that does Mike Rutherford absolute credit.
In songs such as Are You Ready? The Best Is Yet To Come, The Letter and I'll Be There For You, Mike and the Mechanics settle naturally into a rhythm that never betrays the considerate or the insightful; the strength of the band has always been in its cohesion, in its unity and lyrical thoughtfulness and Let Me Fly is no different. It reaches out to the listener who may have been distant and draws them in whilst always concentrating on holding onto the grief of humanity, of living, as deep as possible.
A welcome return to the arena for Mike and the Mechanics, one in which the urge to fly with the songs to a different place is never far from the listener's mind.
Ian D. Hall