Liverpool Sound and Vision Rating * * * *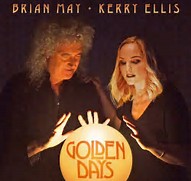 The Golden Age of anything, be it cinema, music, comic books or even life, it all come with a price, it comes with the responsibility of nostalgia firmly saddled up and ready to trek across the desert with the Sun always blinding the followers as they try to emulate the past.
The past is another country after all, the followers riding in the same dusty trail have only the map of went before to guide them, what works for one sees them stay on the path and perhaps even enjoy the scenery for a while, the other, sees the metaphorical horse go lame, the rider become thirsty and the heat of the day exhaust them to the point of despair. The Golden Days survive because they truly had magic surround them, they were timeless and full of drama, the Golden Age exists because it was the pinnacle any performer would dearly love to attain.
It is an age celebrated in depth by Brian May and Kerry Ellis. Already a born couple on the stage and in previous collaboration, the man behind some of the most intoxicating guitar sounds of the 20th Century and the woman to whom the voice is not only a tool to be used, it is a weapon in which softly disarms even the most unconscious dissenter, and one that is used in devastating beauty once again as the pair explore songs of a different age, arguably a simpler era, in the superbly presented Golden Days.
Every era throws up songs that are distinctive, memorable, sang with confidence and even shrouded for the most part in the silver membranes of golden stirrings of smiles and wisps of rose tinted love and glory. It is with unmistakable pleasure rising on each track in the guitar that Brian May and Kerry Ellis play out these songs, that they capture the emotion that is there in the open to hold, with such vigour and creative change.
In tracks such as Amazing Grace, the subtle kindness that is evident in Born Free, the sultry demeanour that is hoisted high in Parisienne Walkways and a extraordinary rendering of I Who Have Nothing, Brian May and Kerry Ellis simply make the Golden Days much more accessible, more alluring but also easier to understand why these older hits, these songs that perhaps would not be played in typical fashion on the radio today, were mesmerising and gorgeous on the ear.
Once more Brian May and Kerry Ellis come up trumps in their respective collaboration, one that is obviously built on trust and admiration; one thankfully that makes any day golden.
Ian D. Hall