Liverpool Sound and Vision Rating 9/10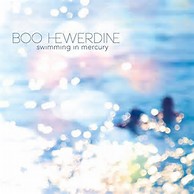 In the laps of the gods, brushing shoulders with the messenger with winged feet and hoping that he takes the note, elegantly written, the heart understanding that each word must be precise and to the point but with the notion that it also must contain a code to which the deserving will adore, to the masses and from there threaten to break down a system and only offer a truth, a truth that life is rich and full of weaved tapestry, even if you cannot see it, the writer Swimming In Mercury will.
Boo Hewerdine is not only the winged messenger in this tale, a deliverer of music to the Gods, to the people, but he is the letter writer, the man who pens moments from his life or observations and turns them into songs that truly garnish the soul with delight.
It seems strange to think that Boo Hewerdine has been so entrenched the last few years in supplying the quill for other people, making sure that ink was fresh and constant, that he has not recorded any songs purely as himself; and whilst working with luminaries such as Kris Drever and the phenomenal Eddi Reader is always going to be a thrill, presenting your own work, placing trust in the messenger Mercury and in your own deeds and actions is always going to be the main thought, it will be the constant devourer until it is sated and placed as a dish before the public.
This letter, this album that is gorgeously whimsical, which sails down the river and memory and poetic reflection, is one that highlights perfectly just how much Boo Hewerdine has been missed as he stepped away from the main light and helped unselfishly others around him gain and take on their own challenges. It does the musician credit to be so generous with his time but the messenger always needs his own audience to take his words under their wing and to enthral them with their own tales and Swimming In Mercury is just that, an enthralment of realism and beautiful whimsy.
In tracks such as A Letter To My Younger Self, the expression of American TV, Gemini, the sense of charm that parades innocently through The Boy Who Never Cried Wolf and the unashamed reflection of The Year I Was Born, Boo Hewerdine arguably relishes every moment in which he pens the message, in which he dances with glee at the words being heard but also humble enough to take on board all he has achieved during the time he has been absent. The messenger, the fleet-heeled Mercury has delivered a time honoured album of great warmth and true satisfaction.
Ian D. Hall