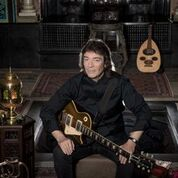 Guitar virtuoso and rock legend, Steve Hackett (formerly of Genesis), is set to release his latest album The Night Siren on 24th March 2017 through InsideOut Music (Sony).  As implied in the title, The Night Siren is a wake-up call… the warning of a siren sounding in this era of strife and division.
Steve commented, "I'm thrilled with this video for the track 'Behind the Smoke' from my new album The Night Siren. Director Ivan and the I-Code team have created an extraordinary film here resembling an epic movie! It perfectly matches the song, which laments the predicament of refugees throughout the ages. More compassion is needed in this world for those escaping persecution and death."
Hackett returns to the U.K. with an exciting new show for a 15-date tour in April and May: Genesis Revisited with Classic Hackett.  Celebrating the 40th anniversary of the classic Genesis album Wind and Wuthering, Steve and his band will be performing several tracks from the album as well as fan favourites such as The Musical Box plus other Genesis numbers never performed before by Steve's band including Inside & Out, One For The Vine and Anyway as well as material from The Night Siren. 
The Night Siren showcases Steve's incredible guitar playing as strongly as ever, along with regular Hackett collaborators and also musicians from several different countries who Steve invited to join him in celebrating multicultural diversity and unity. This includes singers from Israel and Palestine, who both actively campaign to bring Jewish and Arabic people together. There are also instrumentalists from the U.S.A. and Iraq and a multiplicity of sounds, including the exotic strains of Indian sitar and Middle Eastern tar and oud, the ethnic beauty of the Peruvian charango and the haunting Celtic Uilleann pipes.
Steve is widely travelled, making friends everywhere he goes and has always embraced multicultural diversity.  In these times of unrest, he has been inspired to express his belief that the world needs more empathy and unity. His wish to involve a range of musical sounds, instruments, musicians and singers from different parts of the world is both a development of his eclectic approach to music and shows how people can be brought together, even from war torn regions.
Talking about his latest work, Steve says, "This latest waxing represents a bird's eye view of the world of a musical migrant ignoring borders and celebrating our common ancestry with a unity of spirit, featuring musicians, singers and instruments from all over the world.  From territorial frontiers to walled-up gateways, boundaries often hold back the tide.  But while the night siren wails, music breaches all defences. To quote Plato, 'When the music changes, the walls of the city shake'."
The musical journey takes us from 'Behind the Smoke', focusing on the plight of refugees throughout the ages, to the penultimate track 'West to East' which reflects on the damage of war and the hope for a better world. From personal to universal, the themes celebrate the life force, breaking free from chains of repression.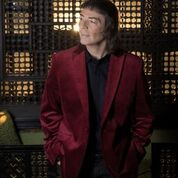 The album features: Steve Hackett (guitar & vocals), Roger King (keyboards & programming), Nad Sylvan (vocals on Inca Terra), Rob Townsend (all things wind), Amanda Lehmann (vocals), Gary O'Toole (drums), and Benedict Fenner (additional keyboards & programming). Also featured are singers Kobi and Mira (Israeli and Palestinian), Nick D'Virgilio (drums) from the USA, Malik Mansurov (Tar) from Azerbaijan & Gulli Breim (drums & percussion) from Iceland. Additional musicians who add to the rich flavour of the album are Christine Townsend (violin & viola), Dick Driver (double bass), Troy Donockley (Celtic Uilleann) and Leslie Bennett (keyboards on The Gift).
Steve Hackett's Genesis Revisited with Classic Hackett kicks off in Dublin on April 26th and comes to Liverpool's Philharmonic Hall on Sunday 7th May.
You can pre-order the album here: https://store.hackettsongs.com/
The Night Siren will be released through Inside Out Music on 24th March in the following formats:
Special Edition CD/Blu-Ray Mediabook featuring 5.1-surround sound mix & making of documentary: 88985410452
Standard Jewel case CD: 88985410462
Gatefold black 2LP vinyl + CD: 8898541047
The video for the album's opening track Behind The Smoke is now released and is available to watch at https://www.youtube.com/watch?v=IkjNNClccOI.
Steve Hackett discusses the album in detail here https://youtu.be/nKSRel6HnHc.