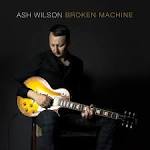 Liverpool Sound and Vision Rating 9/10
It is how you view the world that allows you to make art, if your sense of sight is obscured, if it is permanently finding ways to conceal some of the beauty that resides in even the dark shadows then your mind is not willing to be open, not wishing to take on the new and the exciting. Everything fresh should be given time, should be allowed the grace to be heard or felt as if it is the same experience as seeing a shooting star ride the heavens for the first time; without this sense of wonder we are doomed to be nothing more than scrap, humanity wasted, the archetypical Broken Machine.
It is the observation of Ash Wilson that makes his debut album stand out, the very human action of witnessing events and drawing upon them, not to make an instant sound bite but to be considered, to reflect on the damage, the injustice or even the happiness done to another person.
Ash Wilson Blues, a happy affair, a measured offering in which the distinctive patterns produced, the themes of other's regrets and the world's issues, the suffering caused by the so called great and good as the jockey for position in a world which is becoming increasing isolated and the fall out in the everyday relationships that we see in our homes and the way we treat each other, the sarcasm, the shaming, all coming from a place in which that darkness, those Blues, reside and multiply.
Broken Machine is not just an album, it is a commentary on the everyday, a set of songs which pull together the strings of other's intended hurtful actions and gestures and give the listener a glimpse into the secrets laid bare.
In songs such as Worlds Gone Crazy, Broken Machine, the excellent Words of a Woman, Hold On Now and Holding Hands, Ash Wilson, accompanied by his brother throughout the session and Bob Fridzema, Roger Inniss and Jessy Davey as guests on songs preformed with devastating allusion and beauty such as the quiet but haunting truth of The Hitcher, allows us a stark reminder that the world is not a machine, that we are not meant to be so cruel and calculating. Yet when all is said and done we have created a sense of imbalance, that art and music is the only force worth holding on to; the Broken Machine is not unfixable but the parts are running low, Ash Wilson holds the tools for us to get the job done.
Ash Wilson's Broken Machine is released on April 21st.
Ian D. Hall