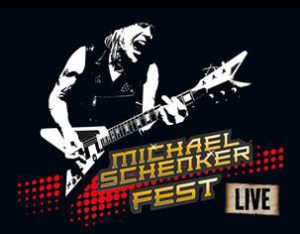 Liverpool Sound and Vision Rating 9/10
It is the pulse of electricity, the chords that beat and ravage the unwary visitor to the point where they think of nothing more than delving into the back catalogue of the artist, of immersing themselves completely into the era of bonhomie and interest in what else the world has to offer. A time before time, for the older fans a memory to hold onto, for the younger, perhaps less versed in the cycle of the live performance, a message to be at one with the power of one of Rock's finest.
Michael Schenker "Fest" Live Tokyo is the latest in a long line of albums that set out to capture the live experience of the Rock phenomenon, the raw energy that can be felt surging through the concrete slabs of any music venue, the drip of constant sweat that falls seductively onto the heads of the anointed as the heaving mass back slap each other in friendly terms because they understand what the music means. It is a long list but it can come as no surprise to find Michael Shenker, in whatever form or band, constantly towards the very peak of the live recorded experience.
Language may be a divider, the common courtesy of praise lost sometimes in the heat of exchange, yet music is the great uniting force, put someone from Japan in a room with someone from Bilston and the conversation might not be free flowing, often punctuated with odd looks of worry, yet put on music, put on Michael Schenker and his companions in the glare of the spotlights and the need for conversation disappears, what is left is a mutual sense of admiration and the excited tête-à-tête ensues, a kind of bonding is underway.
Michael Schenker "Fest" Live Tokyo relishes in this, regardless of where the album was recorded, it would still show the absolute mayhem of the musician in all of its glory; the young 15 year old making his way into the world, going on to be arguably one of the finest and show stopping guitarists of all time, this is a conversation worth having in the heat of passion and it is a love that grows upon each listen.
With songs such as Attack Of The Mad Axeman, Cry For Nations, Armed and Ready, Desert Song, Love Is Not A Game, Rock Bottom and Doctor Doctor heavily influencing the set list and with the rock royalty of Graham Bonnet, Gary Barden and Robin McAuley making the two C.D. and one D.V.D. box set a truly cool way to spend an afternoon, Michael Schenker "Fest" Live Tokyo is an album for posterity, for life and one that captures its own longing for mutual language appreciation.
Michael Schenker "Fest" Live Tokyo is released on Friday 24th March.
YouTube trailer video clip – https://www.youtube.com/watch?v=jdZQ0m5jO_Y
Ian D. Hall