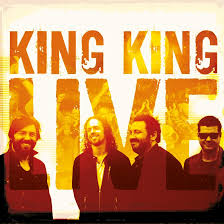 Liverpool Sound and Vision Rating 8.5/10
There is a huge difference between being ready for the studio and being born for the stage, one can thrill the senses, the other washes over them, taking them on a ride that stops the heart, makes it require the sweet recovery of a frontman versed in the knowledge that live music is not about treating the symptom but improving the soul to live and cheer the sound from the wooden stage.
The regal voice maintains high standards, it booms but with dignity, it doesn't veer into platitudes or the soft soak but it just offers a choice, a simple and honourable option, listen and enjoy, reflect and take heart from the passion or leave, go back out the door and find an alternative diversion from the humdrum of life, for the regal voice that King King provide is obviously not for you.
King King caught live, the regal beauty, the gravelly vocal steeped in memory and untold riches, it is the pleasure that awaits all who delve deep into their pockets and take on the responsibility of making sure they are versed in celebrating the stately and imperious beauty that the band provide.
As the music cascades over you, the stereo acting as a conduit from the deep underbelly of the commanding ABC in Glasgow, the taste of sweat hanging in the living room air and the speakers being magnified, being enlarged by the response of the loyal and steadfast crowd, and the sense of comfort that swills in the outside air of Sauchiehall Street, the aftertaste of a great night out being picked apart over a late Blue Lagoon fish supper, this is what it means to catch a band live, to live and revel in the dynamic and trusted.
The set list captured by the band for the live album is such that the whisper in the wind that proclaims a royal birth is taken and spread along each major road out of Glasgow and pushed, urged, erupts in the land; this is the enjoyment of the live experience and it is fully captured by King King.
With songs such as Waking Up, Rush Hour, More Than I Can Take, You Stopped The Rain, All Your Life and Stranger To Love being included in the musical package, that yearning to catch a band at their most dynamic is all aspiration, all the stuttering heart needs to live.
King King Live is released on October 21st.
King King are next performing in the North West on Saturday 26th November at the Chester Live Rooms. Tickets are available from the Box office on 0871 2200260.
Ian D. Hall