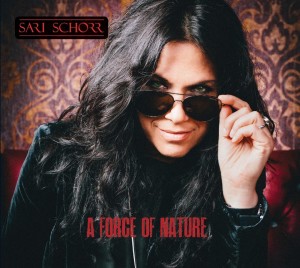 Liverpool Sound and Vision Rating 8.5/10
Momentum is unavoidable when a touch of compelling energy streaks across the night sky and burns with fire, rage and beauty. It is a moment to behold, perhaps in awe, certainly in inspiration and one that when remembered in the dead of night, like a fireball, a streak of the Cosmos hurtling towards the sun, is ablaze with glory and redemption.
It is in the thought of the night sky, the everlasting and the thrust of musical experience that Sari Schorr & The Engine Room become A Force of Nature within, that they radiate a staggering belief despite all the odds that were stacked against them is impressive and very cool.
It is in the act of knowing that you have to move on, to stop the act in which others decide is best for you, even if their intentions are honourable, so that you can encourage your own self worth to be seen. It is never a good position to be placed in to find your words being abused and treated with disdain; thankfully Sari Schorr is made of stern stuff and with that extra ounce of determination one finds when the sound in your head won't quit, when the truth desperately needs to find a way to inch itself out from your soul, all that is in evidence as the music from the album hits out with the best of left hooks and the graceful balance of a hummingbird in full flight.
Produced by Mike Vernon, the album is tantalising, it is has lungs and Ms. Schorr is not afraid to use them to their fullest potential; each breath produces an inspired kick that finds its way easily to the listener's door and barges down any sign of neglect. It is an album that thrives on the character of both Ms. Schorr and her band but also of the guest appearances by the tremendous Oli Brown, Walter Trout and Innes Sibun.
In songs such as Aunt Hazel, Cat and Mouse, Work No More, which was written by the incomparable Walter Trout, the heart soaring cover of Black Betty and Kiss Me, Sari Schorr & The Engine Room really fill the void in the room, the momentum unceasingly stays rapid and cool and never once dissipates into the ether.
An album that lives up to its star billing and one that captivates with a knowing smile, a set of songs that has integrity sewn right through the very heart of each one; rip-roaring, a beautiful beast, some things are worth watching the fire burn in the sky for.
Sari Schorr & The Engine Room's A Force Of Nature is released on September 2nd.
Ian D. Hall