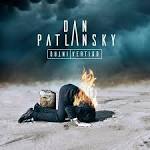 Liverpool Sound and Vision Rating 9/10
It doesn't seem five minutes since Dan Patlansky was wooing a new audience with his outrageously delightful debut album, Dear Silence Thieves, but life in the modern era doesn't allow the fortune of resting upon one's laurels and the carefree wish of finding solitude for a while, a sort of peace in which to hit the audience again with wisely chosen words and sublime guitar is lost.
It is though how perspective is gained, how a musical scene is created and if the muse is there panting with delight and the footing firm to take another round then there is no cause for putting your head in the ground and ignoring the inevitable, for Introvertigo is the best possible reply and it is one that really sets the man on the road to domination.
Perception is everything, talent is the child that keeps giving and when in a room listening to such wild beauty, perception has a habit of running away into the unknown and reappearing with the direction to the next gold mine, the song that just oozes charm and sophistication and the grounding of appreciation that makes producing such finely delivered songs so enjoyable to hear.
To spend time with an extrovert is not everybody's idea of a fun time, yet to hear a musician at their best, to relish the time available between you, is to expect some sort of assertiveness. It is the same with any artist worth their salt, what is the point otherwise in having the ability to make people think, in making their life mean something more if the habit of being gregarious is ignored.
It is perhaps the friendly feel of expression, of welcoming and forthcoming gregariousness that makes Introvertigo so dominant, so wonderfully punchy and direct and a mature, natural successor to Dear Silence Thieves; for the stroke of guitar and heavy weight appeal are one that really open up the veins and allow more life to flow.
In tracks such as Poor Old John, Loosen Up The Grip, Bet On Me, the utterly absorbing Western Decay and Queen Puree, the gregarious is met with the sincere and the honest; it is the right mixture in which to offer the understood so called difficult album; yet in this offering, difficult is replaced by superb and it is one that will leave the ears relishing the earnestly dizzy feel of satisfaction that Dan Patlansky creates.
Dan Patlansky performs at the Chester Live Rooms on Sunday 12th June.
Dan Patlansky's Introvertigo is released on May 6th.
Ian D. Hall