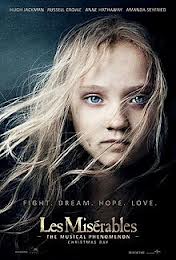 Liverpool Sound and Vision Rating * * * * *
Cast: Hugh Jackman, Russell Crowe, Anne Hathaway, Amanda Seyfreid, Sacha Baron Cohen, Helena Bonham Carter, Eddie Redmayne, Aaron Tveit, Samantha Barks, Daniel Huttlestone, Cavin Cornwall, Josef Altin, Dave Hawley, John Barr, Adrian Scarborough, Isabelle Allen.
Surely there is no way that one of the most intriguing theatrical productions of its time can transfer all its intensity, all of its enthusiasm and guile to the cinematic screen without losing any of its radical thought or scope. Many producers have tried and not many have ever matched the experience that you get when you are as deeply involved with the tale as you are when you embroiled deep within the production as a passionate observer, however with Cameron Mackintosh at the helm and Tom Hooper as director, there is no way Les Miserables can fail.
As the story plays out and the music, captured in its unique and stirring way, comes over the audience in waves, there comes a moment when you forget that you are watching a musical, you just know you are watching a film of epic proportions. This is no Sunday walk in the park like films such as The Wizard of Oz, Mary Poppins or even the outstanding Chicago. This is a film of great courage, both as a story and as for everyone who played a part in bringing Les Miserables to an even greater audience than could have ever been expected.
In Hugh Jackman, well known for his romps in films such as X-Men, this is a revelation, if on the back of this film does not get an Oscar for best actor then there is something wrong with the world of cinema. As prisoner Jean Valjean he is superb, a stunning masterpiece of acting which is enhanced by the incredible photography, the exquisite mood and the approach of fellow actors such as the superb Anne Hathaway as Fantine, the genuine appeal of Eddie Redmayne as Marius Pontmercy, the beautiful voice of Samantha Barks and the twin comic effect of Sasha Baron Cohen, in possibly the finest thing he has been in and the redoubtable Helena Bonham Carter. A cast that quite simply is one of the best assembled for this type of cinematic experience.
Les Misarables is one of the most lavish, most sumptuous and brilliant films of this year or indeed of any year. It deserves no less than to be held in the same high esteem in later years as films such as Gone With The Wind, The Shawshank Redemption and Apocalypse Now as a film of utter genius. Impossible to fault, easy to fall in love with and a joy to behold!
Ian D. Hall