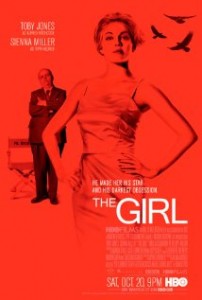 Liverpool Sound and Vision Rating * * * *
Cast: Toby Jones, Sienna Miller, Penelope Wilton, Imelda Staunton, Sean Cameron Michael, Candice D'Arcy, Patrick Lyster, Kate Tilley, Adrian Galley, Leon Clingham, Angelina Ingpen, Louis Joubert, Aubrey Shelton, Carel Nel.
Alfred Hitchcock's fascination with Tippi Hedren, the young blonde woman who made a remarkable transformation from fashion model to actor, is the premise of the biopic The Girl.
Alfred Hitchcock has gone down in history as one of the finest film-makers to come from the British Isles; his films are legendary and include Psycho, North By Northwest, Notorious and Rear Window. However in The Birds, the 1963 psychological thriller, he met the young woman who he was to become fixated and obsessed with. This obsession could be seen to be the beginning of the end for the master of cinema thrills.
With Toby Jones, one of the staples of British television and film in recent years, taking on the almost near impossible task of portraying Hitchcock in the zenith of his career and Sienna Miller as the young Tippa Hedren, this was perhaps the near faultless pairing on screen, a couple of actors giving absolute convincing and dedicated portrayals of the cinema icons.
Toby Jones deserves incredible credit for his performance; his commitment to any acting role is above reproach and in The Girl, he gives an absolute powerhouse presentation as the darker side of the film-maker's life is shown. The almost crazed devotion in which he puts Tippa Hedren through her own psychological hell as the young actor is scarred and clawed by real life birds in the attic scene.  The moment where she is laid down in the garden and her daughter Melanie Griffiths wakes her by bringing some water is almost as terrifying as anything the viewer sees in the film. Sienna Miller gives the camera the sheer terror that it needs as she dreams of the birds attacking her.
With a great supporting cast which included the supreme talent of Imelda Staunton as Hitchcock's much put upon but incredibly loyal wife, The Girl is a must see piece of television that shows the dark heart that drove Alfred Hitchcock on make two of the finest films of his career and the devastating effect it had on Tippi Hedren in The Birds and Marnie.
Ian D. Hall