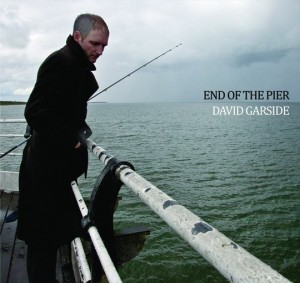 Liverpool Sound and Vision Rating * * * *
David Garside seems to have always ploughed his own furrow when it comes to making and performing music, however he certainly follows in the footsteps of some of the great and musically innovative musicians that have hailed from the realms of Birmingham. In his latest album, the appealing and beguiling End Of The Pier, the emotion and haunting nature of David's love of his favourite music and determination to stretch his and the audience's attention have made for a sound that grabs the listener.
There have been many bands and solo artists from the nation's second city that have appealed to a much wider listening base, notably Jeff Lynne, The Move, The Moody Blues, Dexy's, Magnum and Duran Duran  to name but six and all keeping Birmingham firmly on the musical map. In recent years though there has been a dearth of genuine talent from a city that at one time rivalled Liverpool for its musical output and prestigious acts.
All that can change with David Garside leading the way; for what can be perhaps seen as a new wave of music coming from the area, especially with the Progressive undertones that are weaved and bobbed in sheer elegance throughout the album. Aided and abetted by Paul Rahme on piano and keyboards, Bob Anstey on bass and Phil Considine on drums, David Garside strolls through End Of The Pier with an air of musical excellence that is tinged with nods to Genesis and more interestingly ,the undisguised delights of The Kinks.
From the gentle refrain of the opening track of The Pier, the album swirls and flows like the River Rea that runs through the south of the city and it's W.H. Auden like suburbs. The poetry of the songs Escape, Tin Man and Believe Me capture the man at his very best and it is with deep satisfaction to be able to wallow for a while in the voice of a genuine talent from Birmingham.
End of the Pier is available from www.davidgarside.com
Ian D. Hall