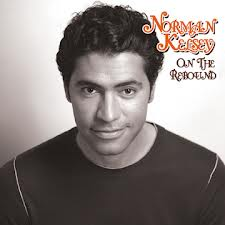 Liverpool Sound and Vision Rating * * * *
He is called the Clark Kent of Soul, however for those in the U.K. that haven't had the pleasure of this young man's work yet, it is perhaps easier to say he is perhaps the most exciting American Soul singer/musician since the days of the irreplaceable Marvin Gaye. Not so much a superhero but a wonderful talent that justifies being included alongside in the pantheon of Soul greats and his latest album the sensational On The Rebound keeps that label intact.
Norman Kelsey's second album continues the journey the young man from Cleveland, Ohio has been on and each song that resides within On The Rebound is an absolute stunner in its own right, a cornucopia of really decent song writing and absolutely brilliant musicianship The songs sound relaxed, captivating and have the ability to charm listeners with their easy going nature.
The supporting musicians also give their all which makes a distinctive pleasant change and in Rahmlee Michael Davis of Earth Wind and Fire fame makes a wonderful contribution to the recording.
It is almost near impossible to listen to this new album by Norman Kelsey without being transported to the long roads of the American heartlands, music supplied by the individual commercial radio stations that litter the highways that run from the north to the south-west and play songs that make the journey unique and unforgettable. These journeys are when you find something new that excites you; that makes you prick up the ears and write down hurriedly the name of the musician that has captured your heart. Norman Kelsey has that same desired effect on his album and on songs such as the opener So Sophisticated, Our Love is Known By Name, Your Majestic Rejection and the memorable and utterly absorbing Supermodels With Gatling Guns those journeys are once more within easy and tantalising reach.
Soul/Pop music finally has a new superstar worthy of its incredible heritage. Norman Kelsey is a name to remember.
Ian D. Hall