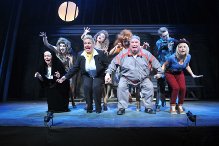 Liverpool Sound and Vision Rating * * * * *
Cast: Lynn Francis, Lindzi Germain, Jamie Hampson, Mark Moraghan, Michael Starke, Anthony Watson, Lenny Wood, Alicia Forrest, Niamh Fitzgerald, Olivia Galvin, Joe Slater.
An ancient evil is stirring beneath the bowels of Lime Street and it is up to Tommy and his daughter Julie to root it out. Fred Lawless' latest Festive extravaganza, the brilliant A Nightmare on Lime Street, pays homage to the comedy horrors of the past and brings together a superb cast, a script of monster proportions and music to adore and smile throughout at.
With David Gest unfortunately out of the show for a while due to illness, the cast picked up the reigns in the only way they could and gave the audience a fun-packed, hysterically humorous and enjoyable to the very end of evening's entertainment.
A Nightmare on Lime Street sees Tommy, Julie and a nun, portrayed by the excellent Michael Starke, the exceptional Jamie Hampson and the debonair Lynn Francis plumb the depths of the cavernous tunnels of the city in search of the elusive and maniacally dangerous Dr. Frankenstein, played with wonderful abandonment by Mark Moraghan, and his army of zombies. The set flits between a very impressive take on Liverpool's famous station and the dungeon in which Dr. Frankenstein, with help from his slave Egor and Lisa/Voluptia, is re-building his famous monster.
Although Mr. Gest will be re-joining the cast soon, the monster's part was seized with both hands by Anthony Wood and his portrayal was absolutely superb and can be seen as a great testament to Mr. Gest, the cast and the Royal Court Theatre.
With a Christmas show it can be easy to get lost in the myriad of tinsel and thoughts of other things but the Royal Court has always striven to give the best show it can, not just at this time of year but at all times and in Fred Lawless' script they deliver yet again.
Much must be said of the cast in this production, especially Lenny Woods who excelled as Egor and his scenes with Ms. Hampson were just enchanting and Ms. Germain who thrilled the audience with her twin portrayal of Lisa and Voluptia. Not only did the smaller scenes with one or two of the cast on stage work exceptionally well but when the whole ensemble were giving their all, it became a night of fabulous attraction.
The entire cast and musicians are on top form for this production, with almost majestic like appeal by the zombie dancers, superb music interpretation by Howard Gray and some intently memorable performances amongst the talented troupe, this is a show that epitomises a great night out for Liverpool's theatre audiences.
A Nightmare on Lime Street…a dream at the Royal Court!
Ian D. Hall.