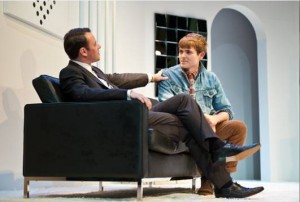 Liverpool Sound and Vision Rating * * * * *
Cast: Andrew Lancel, Will Finlason.
The newly refurbished Epstein Theatre has come of age in such a relatively short time and there was probably no better way to see the theatre enjoying the first big run of its new lease of life than by celebrating the man who shares the iconic name. For a lot of people Brian Epstein is the man that a city thanks for making sure that Liverpool once more was a name to be proud of, to be distinguished once more.
This complex, illustrious and gentle soul is captured in all his glory, his mental anguish and complicated and dramatic anxiety in both the writing of Andrew Sherlock and with the absolute presence of two incredible actors. Andrew Lancel and Will Finlason show in such intensity, love and a certain amount of affection part of the last few hours of the life of the man who made the Beatles.
From the start of the production the times were captured and framed perfectly and the level of acting was at its absolute peak throughout the near two hour performance.  Andrew Lancel gave the level of acting usually reserved for David Morrissey in Macbeth or Jonathon Pryce in The Caretaker. For those in the audience who knew Brian Epstein, the image, the silhouette of Mr. Lancel on stage was captivating and superb, every mannerism wonderfully executed and breathtaking in its apparent simplicity.
Mr Lancel shouldn't run away with all the plaudits though, for the young and impressive Will Finlason, who played the role of this 'This Boy', matched Andrew Lancel for his dedication in bringing the vision of the man and the times successfully to the stage.
This year has seen perhaps one of the most exciting and incredible years in Liverpool for all its amazing theatres and some of the most dynamic and well crafted productions that its audiences have had the absolute pleasure in seeing. Epstein is without a shadow of doubt the biggest and most incredible of them all. Superbly written by Andrew Sherlock and with two absolutely first rate performances by Andrew Lancel and Will Finlason, Epstein captures the very heart and essence of the man and of the city it was his and their fortune to be forever linked to.
Broadway and the West-End may have their opening nights but nothing could ever match the sight of a Liverpool audience giving a warm and loving standing ovation for a play that very much looks at the life of Brian.
Ian D. Hall