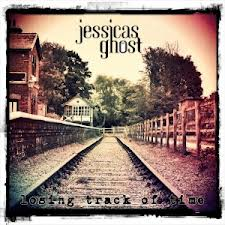 Liverpool Sound and Vision Rating * * * * *
No matter what, 2012 could be the year that Jessica's Ghost became a major force in the all-encompassing world of Liverpool music.
There have been some utterly absorbing albums to come from the region this year and rightly so as the city enjoys yet another renaissance in what people from London to New York to Sydney are expecting to hear from the place where the Mersey Beat first came of age, the eighties revival took hold and now the 21st century musical barometer is suggesting and predicting.
Jessica's Ghost's new album is simply brilliant. Not only does Losing Track of Time see the band take the next step on from their 2009 album The Winning Hand but it sees them stretch themselves to a creative peak which is sublime and as interesting as it is possible to get to.
Each track is delivered with a panache and style that is relentless in its simplicity and overwhelming in its finality. The combination of Christoph Demetriou's violin, Dave Thorbinson's Drums, R-Chris Shaw's guitars and ukulele, Craig Smith's keyboards, Emma Thorbison's stunning and sultry vocals and Moxy's bass and mandolin on songs such as Big City Lights, the soul lightening 1989, and the intensity of The Fire make this an album to really take note of.  The album finishes in superb style with three awesome tracks that really light a fire in the band's passion and playing. The songs Vegas, Home and Sinking Ships are as majestic as they are dramatic and full of life.
Though it may battle it out with Stealing Sheep's debut album as the best from the area this year; it is either a wise man or a fool that would call that particular outcome. I am no wise man but as much as Stealing Sheep, with their incredible ethereal beauty and layered musical landscapes are undoubtedly phenomenal, Jessica's Ghost's Losing Track of Time is perhaps the finest exponent of Celtic fused Liverpool songs to hit the street this year.
An outstanding achievement, full of warmth, splendour and magnificent music tied together with the stunning voice of Emma Thorbison and a set of musicians that grace the ears and reaffirm faith in home grown music.
 Ian D. Hall