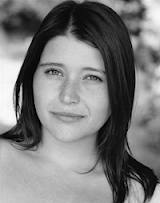 British playwright, Andrea Dunbar, wrote the sensational Rita, Sue and Bob Too! in the early 1980's. It caused much controversy at the time as it played on the negative outlook of certain rundown council estates in the north of England and especially in her part of Bradford.  On the back of sell out performances at the St Helens Theatre Royal last year, the team behind the revival of the play have bought it back for another incredible run at the theatre.
One of the stars of the play is Dannielle Malone. No stranger to the acting world with appearances in television programmes and films such as Hollyoaks, McQueen, Desperate Measures and Awaydays, Dannielle is one of the up and coming actors who has become such a big hit with her acting style and is also one of the founding members of Liverpool's Improvisation theatre company Impropriety.
Having trained at the G.S.A. Conservatoire, where such acting luminaries as Brenda Blethyn, Bill Nighy and Celia Imrie started out, Dannielle now finds herself closer to home playing the part of Rita in the play directed by Sylvie Gatrill and is enjoying her time working alongside Tina Malone, Nikki Sanderson and Paul Opacic and has had great fun working under the producers Jane Joseph and Chantelle Nolan.
With the production entering its second week at the theatre I was able to catch up with Dannielle and talk about her life and the play.
How did you get involved in the world of theatre and in acting?
"I started acting when I was six, my first film was called The Dressmaker which was with Joan Plowright and Billie Whitelaw and it was obviously Jane Horrocks' first film. I started acting then as I went to drama school as a child called the McKee School of Education, Dance and Drama and unfortunately it doesn't exist anymore.  I had always done shows at the Liverpool Empire Theatre and various places and just absolutely loved it and went on to join the Everyman Youth Theatre and from there I went to drama school in Guildford, the Guildford School of Acting and chose acting then as a professional career."
For your latest production, Rita, Sue and Bob Too! There is a bit of a family affair on stage, was it difficult to work alongside your mum and step father in this particular show?
"Of course it has its difficulties, even though my mum was in very few scenes. The majority of the rehearsal period was just myself, Nikki and Paul Opacic and of course Paul Malone, my mum's husband, had only a few lines, he's not an actor by his own admission…he came into last year when we had the read through for the play, the guy who was going to be playing that part didn't turn up, so Paul said I'll read it and then we said why don't you just do the character as it is such a small part. Because my mum had me very young, we are more like sisters and because she was a single parent and I was an only child, it was just me and my mum there, we do argue quite a lot and people say that's because we are very similar."
Could you see anything in your yours and Nikki's characters that is still prevalent in today's society alongside that of 30 years ago?
"Most definitely yes, there's that whole…unfortunately there is that background that they come from and they are just desperately trying to escape, desperately trying to find someway…they can't afford to be educated. They don't go to school and they haven't got any ambitions, the best they can hope for is to meet a guy who will provide for them. I think that is prevalent in today's society and especially with the fees now with University, it's becoming more and more impossible for people from that kind of background to be able to educate themselves which is terrible. I have seen, I know when I was in school, not in the school I went to but you would know there were girls drinking in cars with guys and you'd be like oh my God. I was saying to mum at 15 what would a 26 year old want with a 15 year old but some girls are just impressionable."
All three of you, Nikki, Paul Opacic and yourself seemed to have an incredible amount of energy and spark on stage together, the scenes in the car and when you and Paul are on the sofa, they were very well performed. Did that come across to you in the play? 
"Yes, it's just been an absolute joy working with Nikki and Paul, I had worked with Paul before on Hollyoaks and even though we never had scenes together but we knew each other and talked in the green room and make up but we had never had any story lines together. When I said to the cast I was working with Paul, everybody said he was a dream to work with, such a generous actor, (laughs) obviously he's very attractive but he is just really generous and easy to work with which makes you feel so comfortable, Nikki is as well. The beauty of it is that Nikki is 28 and I am 31, just, and yet we are playing 16 year olds so we haven't got that nervousness that can come with the part.
Me and Nikki we met once before but everybody in the crew and backstage thinks we have known each other for years and it's like how have you only just met? Nikki has been staying with me for the week and we just bonded, we just got on so well and she is absolutely lovely. Everyone has such great chemistry and we do really get on with each other."
As I said in the review, it is a difficult play to put on because of the connotations that are associated with it and yet the audience on the Saturday loved it completely, did that come across to you?
"Yes it does, it's funny at the beginning because we act quite child-like and when he Paul starts the science lesson in the car, we didn't want to play it where we really don't know what he is talking about it could be incredibly uncomfortable for the audience to watch so we decided if that we played it where we are know exactly what we are doing and we are using him as much as he is using us and we are winding him up and using the lines like, Do you think he believes we are virgins? We realised that people were hesitant to laugh at first but as soon as Paul stands up and flashes his bum at that point we heard all the laughter. We tried to be a bit more playful with it and a bit like we do know what we are doing.
They are actually 16 as well, we reference they were 16 so we didn't have the whole under age sex thing especially with the connotations today that is going on in the news. Of course what he is doing is incredibly wrong on every level, because of their age, because he is married, everything but we didn't want him to be villainised straight away." 
With Andrea Dunbar's original play and the subsequent film it was left open ended, do you think that Paul's and yours character would have been happy in later life?     
"No, I don't think they would have been, the age difference as she got pregnant would have been too much. I have thought about this a lot and I think she goes out to get pregnant purposely, all the way through the play, she's the one going, oh, it stops you from getting pregnant and of course we will not tell anyone, I think she's being quite calculating and when Bob's going "I do this and I have got all these jobs", she thinks wow I am going to have this incredible life with you. For him I think it will just turn out incredibly sad as he has now lost his wife and children and he has got a 16 year old pregnant and now he will be stuck with that.
Even when they are alone and she's trying to turn him against her best friend and she says "oh she can be very miserable with you can't she?" she's cleverer than she is letting on, she is dead crafty and I think she got pregnant intentionally."
One of the last scenes in the play, the confrontation in the street is played out so well. Where Nikki puts two fingers up to her drunk dad, played superbly by Liverpool's Micky Finn, is a very cool part of the play.
"It was absolutely amazing, she was brilliant. One of my favourite scenes is where after Nikki and I are in the kitchen and I say I am pregnant and walk off, the scene where her and Paul are left alone and I stand at the side and watch I just let out this huge ahhh as she's getting upset and explains why as she says "that's my best friend you're going with." That part really moves me.   
Ian D. Hall