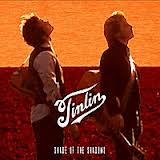 Liverpool Sound and Vision Rating * * * *
Take the vocal harmony of Scottish Del Amitri when they are at their soulful best, combine elements of America's Simon and Garfunkel and add the passion that certain songwriters can bring to their audience and the result you have is a superb album by Tinlin titled Shade Of The Shadows.
Tinlin are brothers Rolf and Alex Tinlin, with their vocal harmonies and soft gentle refrains, they make a proposition worth listening to with some wide eyed and overwhelming abandonment. The sound they combine alongside Stephanie Blood on cello on the songs In These Arms and Don't Want To Sleep Alone, Jack Carrack on percussion and Eleanor Tinlin on cor anglais and oboe make this an album worth seeping yourself into.
Shade of The Shadows shows how the subtlety of persistence can bring out the very best in a person's or group's ability and in the writing of this album, there is a lot to take in and admire in the arrangement of songs and the message behind them. Songs such as the aforementioned In These Arms, the exceptional Steal and the brave and justifiably glorious tune of Northwest Light are stunning and delicately played.
Word of warning, don't be too quick to turn off the C.D. and divert your attention away from the accomplished sound that you have heard, for after all the final word must belong to the artist. In amongst the fine music lays a hidden track of some gentle quality, not only does it give the whole recording a more rounded off feel but it is immensely beautiful.
Tinlin may be a hidden gem for now but once word gets out on the depth of the music ability and the British pastoral and folk they incorporate into their music, then time can only be kind.
*Tinlin support Paul Carrack on his 2012/13 Good Feeling Tour. They will be at New Brighton Floral Pavilion on November 8th and the Liverpool Philharmonic Hall on February 8th 2013.
Ian D. Hall