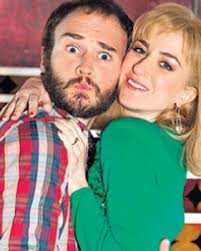 Liverpool Sound and Vision Rating * * * *
Cast: Oliver Lansley, Katherine Kelly, Angela Lonsdale, Tony Pitts, James Wilby, Don Gallagher, Adam Garcia, Simon Callow, James McArdle, James Floyd, Jonathon Kerrigan, Perry Millward.
The lives of those that make us laugh are often beset by some inner lingering sadness or conflicting turmoil. So it seems is the absolute truth to the life of Kenny Everett, a man who had his fingers on the pulse of a nation before they realised he had whipped out his musical comedy stethoscope and asked them to giggle.
Perhaps there is nothing sadder than being wise after the event on how desperately lonely and miserable a person can be whilst seeing enjoy the laughter of others. Such was the gratifyingly moving and stark reminder that not all was great in the life of one of the U.K.'s top broadcasters which was captured superbly in The Best Possible Taste: The Kenny Everett Story.   
Kenny Everett was a household name for pretty much for the best part of his career, if he wasn't on radio then he was on television and everywhere he went, the jokes, the sketches, the tantrums, the insanity and the audiences went along for the ride as well.
This almost tender look at the life of the warped and privately destructive man showcased Oliver Lansley as the Seaforth legend who showed the nation to laugh but who could not find the right words to express his own feelings and desires.  He sought comfort with the woman who become his wife, best friend, mother figure and confidante but who he ultimately also drove to despair. The two main actors of the biopic handled the ups and downs of Kenny's and Lee's lives and his frightened, almost child-like behaviour coupled with his utter refusal to deal with his own sexuality with tremendous care and attention.  Oliver Lansley's portrayal of the disc jockey/television star was scarily immaculate, the anguish in Katherine Kelly's face as she realised what her husband had finally become was incredible.
The biopic was given extreme polish by some excellent portrayals of the people in Kenny's life. The scenes between Kenny and Lord Attenborough were excellent and Simon Callow seemed to revel in his portrayal of the man who rescued Everett's career. Also it has to be noted that Angela Lonsdale as Kenny's mother was absolute top form, proving the actor has greater range than the soap and daytime world she often inhabits.
The comic book life of Kenny Everett was as wild and extreme as some his creations and for one evening it was possible to welcome cuddly Ken back into the living rooms of the nation.
Ian D. Hall