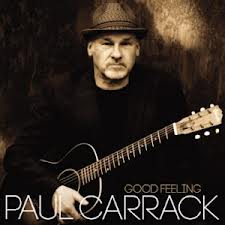 Originally published by L.S. Media. September 25th 2012.
L.S. Media Rating ****
Paul Carrack's latest offering is quite simply one to savour. Good Feeling is not only the name of this excellent album but also the mood it generates as the various pieces of music drift over you is akin to the very best waking dreams and nights in front of a roaring and comforting fire.
Paul Carrack has been around for so long now and his music has always been interesting, enjoyable and honest and yet it seems a shame in a way that he is still more well-known for collaborations with other artists or songs within the group structure. Whilst songs such as Mike and the Mechanics' Silent Running (On Dangerous Ground) and Over My Shoulder and his time with Squeeze being riddled with excellent songs such as Tempted rightly hoisted Mr. Carrack to the forefront of the record buyers conscious, it seems the solo albums have been bought by the loyal audience. That is a shame as a lot of people have missed out on some rather wonderful recordings.
Good Feeling is Paul's 16th solo album since he first bought out Nightbird in 1980 and listening to his back catalogue it is pretty astonishing to hear that same crisp voice punctuating and resonating through the airwaves and with no sound of the voice losing any power or character. In thirty years that is pretty awesome achievement, in his whole career which stretches back further, it is incredible.
The album overall sound is one of sultry, laid back but with purpose and intent and on songs such as the brilliant Marmalade Moon, the sad lament of I Can hear Ray, the beauty of I Don't Wanna Lose Your Love and the cracking Nothing Without You, Paul really shines and outdoes a lot of songs of his career. Not only is the music exceptional in places but the addition of Steve Beighton on various sax and Rolf Tinlin on mandolin and backing vocals give the album a charm that is much needed in today's modern sarcastic age.    
Good Feeling is cracking album by Paul Carrack, full of incredibly beautiful songs which are befitting of the man's stature and huge talent.
Ian D. Hall