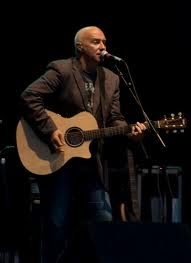 Originally published by November 6th 2011.
L.S. Media Rating ****
The last time Midge Ure stood on the stage at the Pacific Road, Birkenhead, could be considered surreal, no audience, just lights, music and his three band members of the 80's New Wave Avant-Garde group Ultravox for company as they rehearsed their set for their sell out tour last year.
Ever the consummate professional, Midge Ure won't stand still on past glories and with memories still firm in the mind of those that attended the Liverpool Philharmonic gig, a sell-out crowd was virtually guaranteed on a cold night in November as Midge performed an acoustic show that was without fault and without equal. There were many songs that Midge could have placed within the set, his career is long and has had many highs but those selected hits and much loved favourites that he performed for a very appreciative audience stood out beyond measure.
Opening with a couple of classics which included Loves Great Adventure, David Bowie's superb Lady Stardust and the Visage hit of Fade to Grey was a choice of pure perfection. By adding to these, the evening will live long into the audience's memory. Between songs Midge Ure regaled the crowd with several anecdotes, the odd insight into what has inspired him and his choice of songs that he has chosen to cover in his illustrious career.
Songs such as the heart breaking and yet beautifully arranged Man of the World by legendary Fleetwood Mac member Peter Green and the equally charming and equally soul gripping No Regrets by Scott Walker all showed that Midge shouldn't be remembered for just his songs but his absolute dedication to the songs and acts that went before, every one making Midge the man he is today.
Even with the evening being littered with top class songs, there was time for the hits and there is no better sight that seeing Midge Ure enjoying himself and the crowds' reaction to songs such as The Hymn, If I Was, and the sensational Vienna being played with such power and presence.
The Pacific Road venue is under serious threat of closure but with champions of Midge's stature banging the drum against Wirral Council's imposed cuts there can be only hope. A night of superb musicianship and a voice that is rightly considered among the very best.
Ian D. Hall