Originally published by L.S. Media. January 31st 2012.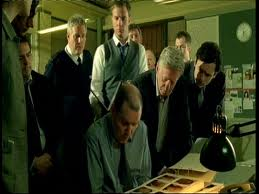 L.S. Media Rating ****
Cast: Rupert Penry-Jones, Phil Davies, Steve Pemberton, Claire Rushbrook,
If you are a fan of the whole historical story of Whitechapel, the abundance of dark characters that litter and parade through the East End of London's dark and dismal past like a proverbial Mister Hyde to the City and the West End's Dr. Jekyll, then the modern detective story of Whitechapel and its mismatched team of detectives is just the return you have waited for.
There will be some who say it's all too much. No area or town can have so many desperate and gruesome people stalk its streets but the television programme deals with the historical authenticity of times past in the East End of London whilst giving them the twist that modern television audiences seem to adore. Series One looked at a new version of the much told and still intriguing Jack the Ripper case, Series Two was brave enough to have the backdrop of terror permeating from the shadowy past of The Krays. Series Three goes back in time and highlights the mystery of the Ratcliff Highway Murders and brings them up to date.
Too much for one town, even for one part of London, check out the well written and incredible book by Ed Glinert titled East End Chronicles. A cracking read and one that goes into more of the murderous history of this once neglected part of London.
Series Three has gone up in the world whilst on the evidence of the opening episode, maintained its core entertainment value. Instead of one story over three weeks, viewers will be treated to three stories of two parts each. This may seem to be pander to the belief that modern television viewers attention starts to lag if a story line goes on for too long but on this one occasion it seems to show belief in the programme…There is after all, a lot of dark, a world of shadow that has come from that part of the city.
The story itself also sees the development between the three principal male leads. The relationship which was fraught and misunderstood at the start now seems stable even cosy as Phil Davies worldly wise and Rupert Penry-Jones young seniority but O.C.D. afflicted have suited well. It's reminiscent of the Inspector Morse books where his trusted Sargent was older than him but gave way to the superior intellect.
Steve Pemberton also seems more and more at home in dramatic roles and away from the surreal, dark comedy of his early career on television. Like his co-star in The League of Gentlemen, Mark Gatiss, Mr. Pemberton has suddenly become an actor of depth and his portrayal of Ripperologist Edward Buchan is at once dedicated to the point of manic exasperation and creepy enough to compare to Robbie Louis Stevenson's greatest creation.
Whitechapel is no Sherlock and to compare the two would be ridiculous as it won't get the same national attention from the papers or fan sites that spring up when something decent comes up on television.   However, it does serve a purpose for genuine good drama and story lines that may seem outrageous and unbelievable. Check your history though; read the books and learn that it really happened.
Whitechapel continues on Monday nights on I.T.V.
Ian D. Hall