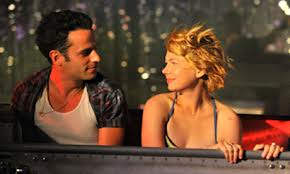 Originally published by L.S. Media. August 14th 2012.
L.S. Media Rating ****
Cast: Michelle Williams, Seth Rogan, Sarah Silverman, Luke Kirby, Aaron Abrahams, Raoul Bhaneja, Albert Howell, Dianne Flacks, Diane D'Aquila, Danielle Miller.
The leafy streets of Toronto don't have that many films attached to it to make it a serious rival to New York in which to shoot feature films, the sense of history is not quite there. Instead of the usual camera shots of well-worn cliché ridden snippets of Central Park, coffee houses and exclusive apartments, Take This Waltz relied on the majesty of the Toronto skyline and the idyllic settings of Little Portugal and Lake Ontario. For that alone gives the film credibility as it strays away from the well beaten production North American film path.
Take This Waltz is quirky enough to realise quite quickly where the story will eventually end up but its depth and look at life between a married couple and a man who comes into their life, is not just about this relationship breaking down but also of those around the family unit.
Michelle Williams, Seth Rogan and Luke Kirby act their hearts out in the film, however it's the side character of Sarah Silverman as the recovering alcoholic sister in law to Margot (Michelle Williams) who is the glue that finally breaks and tears apart as she sees her brother and beloved sister in law drift apart, that is really the star turn in the film.
What is very special about the film is that whilst the film ultimately ends up where you might expect it, the characters and the dialogue don't. This is film that strays far enough from the cliché to make interesting. There is no big ultimate show-down, no moments of bitter recrimination, it's all fairly adult in its outlook and even Michelle Williams as Margot is incredibly likeable as she goes between showing signs of intimacy issues to full blown giddy child full of wonder of what she landed herself in.
Where the film succeeds brilliantly is by making Seth Rogan utterly charming and decent fully rounded human being. As an audience member you cannot help feel warmth for him and complete sympathy as the moment when his wife finally stops prevaricating and heads off in search of the man who has captured her heart. As writer and director Sarah Polley must be congratulated from the highest parts in the Canadian provinces in being able to prove that Mr. Rogan is a man of charisma and is able to pull off a deep and sensitive man without reverting to an overused and utterly deplorable film stereotype.
Take This Waltz has all the charm of Sideways and the majesty of the Canadian scenery helps the film steer wildly from the schmaltz that can get in the way of these type of productions.
You will be entranced all the way through this excellent film.
Take This Waltz will be at F.A.C.T. soon.
Ian D. Hall