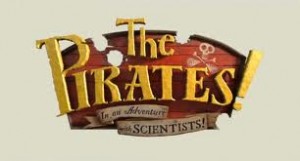 Originally published by L.S.Media. April 15th 2012.
L.S. Media Rating *****
Cast: Hugh Grant, David Tennant, Imelda Staunton, Salma Hayek, Martin Freeman, Lenny Henry, Brendan Gleeson, Brian Blessed, Russell Tovey, Ashley Jensen, Jeremy Piven.
So the truth is out, Queen Victoria was a lover of fine dining of exotic endangered animals including panda bear. Charles Darwin looked suspiciously related to his manpanzee Mr. Bobo and pirates are just as nice and thoughtful, well-spoken people who plunder their way across the high seas only because there is a shiny trophy at the end of the year. At least this is how it works in the utterly absorbing world of Aardman Animations and the world of stop-motion film.
The Pirates! In an Adventure with Scientists is the latest film to come out the Aardman stable and like Chicken Run and the Wallace and Gromit films is destined to be a much loved classic in years to come. The reason is when you have created enjoyable characters such as "Pirate Captain", voiced by the versatile Hugh Grant alongside historical people, not so much turned into figures of fun and ridicule but given a darker edge that shows the absurdity up perfectly of suggesting that the Victorian era had no sense of humour, then you are onto a major winner and yet another Oscar nomination awaiting the company.
As with Chicken Run, the film boasts the vocal talent of some real superstars which gives the clay characters depth and an element of humanity, albeit giving a very skewed Python-esque version of Victorian history. Among the voices cinema goers will be able to hear are former Doctor Who star David Tennant as one of the Victorian era's greatest minds, Charles Darwin (surprisingly who can't get a girlfriend but manages to have a man servant in the form of a chimpanzee), Sherlock Holmes's Martin Freeman, the best man to come out Dudley, Lenny Henry, and a man whose voice can stop traffic and bring a room full of Flash Gordon fans to a wonderful standstill with just a single well placed word, Brian Blessed.
Add these together and you have one of the most amazing films of the year so far. There will always be the members of the film fraternity who decry a film of warmth as being nothing short of being written for children, a film for the holidays in which parents are press ganged by their offspring and taken against their will to see a film that essentially is Pirates of the Caribbean meets a dodo eating, panda stuffing hedonistic spoiled queen. However despite the crude analogy, Pirates…is far and away better than anything Johnny Depp came up with after the first franchise film…for a start "Pirate Captain" is a far more believable and interesting pirate and his crew more three dimensional.
Pirates! In an Adventure With Scientists will have you laughing in all the right places and surprisingly for a film of this quality, one with a cracking music score which includes the under-rated Tenpole Tudor hit Swords of a Thousand Men grabbing the attention of the older audience members alongside The Clash's tour de force London Calling.
A film of full of humour and delight, written with great care and regard to the novels by Gideon Defoe.
Ian D. Hall