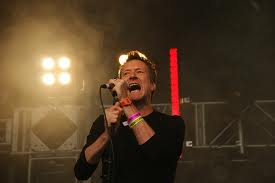 Originally published by L.S. Media. May 11th 2012.
L.S. Media Rating ****
When Blancmange were last in Liverpool, the Lancashire duo had just released the excellent Blanc Burn, their first new studio album in 26 years.
It was with great sorrow that keyboard player Stephen Luscombe couldn't be there on the night then and was with greater despondency that he couldn't be there again for the band to celebrate Blanc Burn being released as a special vinyl edition. However Neil Arthur is a consummate professional and has the air of a man who has the desire to prove that nothing will stop a show, even when one of your oldest friends is missing from an excellent show at the Liverpool O2 Academy.
Blancmange were one of those 80's groups that have become engrained into the decade's appreciation and despite only having three studio albums recorded during that time. The music they created stood out as some of the finest of the electronica age and as Neil Arthur came on stage to a very loyal crowd, the grim determination to give the audience a good time was etched into Neil's face and any worries the crowd may have had, soon vanished and was replaced with the pulsating and enjoyable tones of songs such as God's Kitchen and the excellent Waves.
The confidence from the crowd gave Neil Arthur the lift he craved and as he went back and forth through the band's colourful discography with tunes as diverse and as musically playful as Radio Therapy, The Western, the awesome Living on the Ceiling and catchy Blind Vision, there wasn't a person still in the crowd, whether dancing in time to the fabulous electronic tunes or bobbing up and down as the enjoyment and excitement became too much for them to just be a bystander or casual voyeur, watching others reliving their lost youth.
The night, part of a cunningly titled 'The Vinyl Tour' was taken in and participated by all in the Academy, no one was as out of breath as Neil Arthur as he gave his all to the cause but conversely inspired many to have the best night of the year for them so far.
The gig finished in fine style with tracks such as the amazing Feel Me, the incredible cover of ABBA's hit The Day Before You Came and I've Seen The Word all being played to huge appreciation by the 02 Academy audience.
Ian D. Hall